PaperLess electronic document archiving software uses the latest
Capture>Process>Archive
methodology to capture your documents as early as possible, then process and approve both accounting and non-accounting documents within one workspace, and archive them securely so businesses can search for any document in PaperLess at a later stage.
Efficient
workflow management
plays a vital role for profitable businesses because it saves time and reduces manual errors so your business can gain a higher and quicker ROI. PaperLess electronic document archiving software does more than archiving so businesses can complete the entire workflow process without giving up their existing accounting applications. PaperLess integrates seamlessly with Sage 50 Accounts, and Sage 200 Suite as synchronisation happens instantly in the background.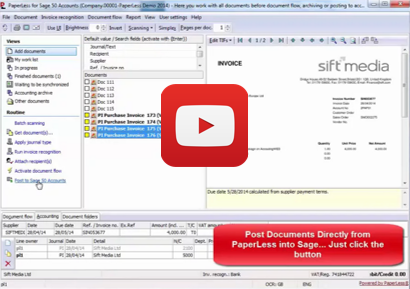 For all your accounting transactions, PaperLess digitises paper invoices by using
Automatic Invoice Recognition
to extract the relevant data from your invoices. This effectively reduces manual data entry and manual errors. PaperLess automatic
invoice recognition for Sage
is easy to use. It is quick to recognise the relevant data from your invoices and your colleagues can edit voucher information in PaperLess. Your colleagues can then send them to their team members for approval and post transactions with relevant documents directly into Sage from PaperLess. They will also be able to view documents in PaperLess at a later stage.
What our clients say about PaperLess
Colin Mayrs, Blair's Caravans Managing Director
Øyvind Haugen, Grenland Data Business Developer
Chris Houghton, Eventura's Owner
Contact Us
Phone Number: +44 (0) 207 135 2007