If keeping track of all documents and transactions used to be seen as a hassle by accountants an audit was simply a nightmare. PaperLess software revolutionised the way accountants face an audit, since all their documents, receipts and invoices are already linked to the transactions in Sage, turning auditing into a simple and straightforward operation.
Currently, as soon as an accountant receives a document he brings it into PaperLess and all the information is extracted from it with PaperLess powerful Automatic Invoice Recognition feature that, with more than 80% success rate, fills in all different fields. With PaperLess full system automation transaction can be immediately posted into Sage with the corresponding document automatically linked to it.
An hassle free process that speeds up all document management processes from the moment they are received, either by email, post or whatever other format and that allows accountants to have all the information at the click of a button away. That is why keeping control of all documents is now so easy and audits are now seen as a fast and pain free process.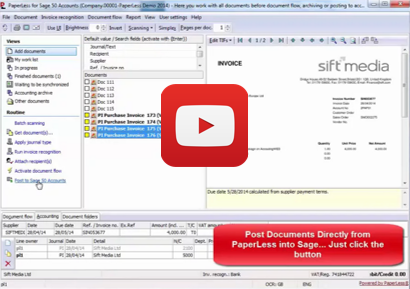 What is paperless office software?
About PaperLess Software
PaperLess software is a powerful solution that uses automatic invoice recognition, data input and document matching together with electronic document flow and online document exchange and approval to improve the efficiency of accounting systems. You can now take full advantage of your accounting solution with a simple, smart and secure software that allows you to seamlessly automatize processes and increase your company productivity, profit margins and data accuracy levels.
Check now PaperLess software and see what this powerful solution already implemented in more than 1700 sites across Europe can do for your business.
Increase efficiency levels with system automation
Increase Productivity Levels and Revenue Margins
Reduce operational costs across the entire company
Communicate live and exchange information with clients
Gain competitive advantages and differentiation factors
With over 1700 client users across Europe, PaperLess software is integrated with an array of different accounting software (Sage 50 Accounts, Sage 200 Business Suite, SoftOne Professional, UNIT4 Multivers, DI-Business, Mamut Business One, Microsoft Dynamics NAV and AX, Exact Globe and Eyesel Business Suite, etc.) and manages the whole routine from scanning or adding electronic documents to processing them in the accounting systems.
Contact us now:
Phone: (+44) (0) 207 135 2007