Businesses today recognise the challenge of maintaining an orderly document management system which the whole business can adopt and work from. The average businesses' daily document management can include creating, archiving and retrieving documents. Some of this is done electronically (via computers and other technology like scanners, accounting software etc), whilst others are done traditionally throgh paper documentation. With this system you can easily a lot of time just managing paperwork.
There is an alternative to all this. An alternative which can increase efficiency, productivity and also save your business some money. That alternative is called paperless office software.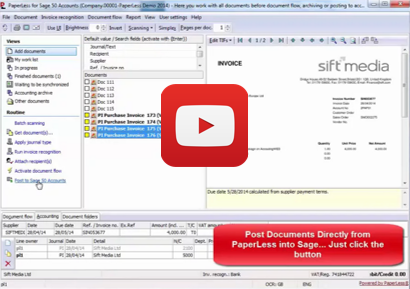 What is paperless office software?
Paperless office software is a technology that allows paperless account management by means of record management software and electronic document management. It is in fact, the perfect method to create, store and access all the data your accounts contain. Paperless account management has its roots in the OCR software, which was the first system to introduce electronic documents.
What is OCR software?
The OCR software was first used to translate any type of document into files that can be read electronically. It doesn't matter if these files are typewritten or printed texts, the OCR technology transforms them into electronically available formats. Furthermore, with OCR technology all electronic documents in the system are easy to be found and extracted. This type of electronical document management tremendously reduces the errors and time consumed, making the accounting software and records management software highly effective and secure.
How can my company benefit from paperless accounting software?
There are many benefits of paperless office software:
creation and storage of electronic documents meaning there will be no time and money wasted on storage spaces
documents and data that are easily found and accessed, meaning you will no longer have to spend precious time just looking for an information
security of data and documents through encryption and electronic signatures
easier regulatory and industry compliance, since transparency and accountability in the audit trail is a strong feature of electronic management. This will save money and your employees' time of processing compliance measures
smooth workflow
sharing information with colleagues, granting fast communication between departments
more environmentally friendly than paper- less forests being cut down to produce paper
invoice approval workflow leading to streamlined invoice management
What is invoice approval workflow?
The invoice approval workflow tool is available in a paperless office software tracks all the invoices through an electronic system. This feature makes the entire payment process visual, making it more transparent and easier to follow. The invoice approval workflow tool can be accessed from every computer, and even remotely by authorised personnel.
How safe will my documents be if I choose to go paperless?
While some businesses might feel safer having the "papers in their hands", many businesses need more re-assurance when it comes to the security user rights of company documents. One major advantage of going paperless and adopting electronic document management methods is the ability to use encryption. A digital signature is impossible to forge and protected electronic documents are impossible to be accessed without the correct identification data. The laws all over the world respect and recognize electronic documents and signatures as being valid.
Paperless accounting software is designed to ease your company's work by increasing efficiency and productivity. The improved security of electronic document management and its convenience and ease of use are the icing on the cake.
What other reasons does your business need to join the paperless movement?
What our clients say about PaperLess
Chris Houghton, Eventura's Owner
Jeffrey Summer, Mulderij' Relationship Manager
Pradip Shah, Ashgoal's Business Consultant
Contact Us
Phone Number: +44 (0) 207 135 2007