Paper invoices can be scanned directly into the PaperLess workspace by using PaperLess printer. When businesses receive invoices electronically via emails, use PaperLess Add Documents function to drag and drop documents from emails or computer to the PaperLess workspace. It is easy to organise and edit documents in PaperLess.
PaperLess does more than invoice scanning. After scanning invoices into PaperLess, the PaperLess automatic invoice recognition feature extracts relevant data from invoices into the PaperLess workspace. PaperLess invoice recognition uses Optical Character Recognition (OCR) technology, which quickly extracts the relevant accounting data from the invoice so the accounting transaction is created for posting into your accounting application. PaperLess enables businesses to edit, approve and post directly to their existing accounting applications such as Sage. PaperLess integrates seamlessly with Sage, meaning there is no need to give up your current accounting application when going paperless. Every time accountants post a transaction with the relevant document attached to Sage synchronisation happens instantly in the background.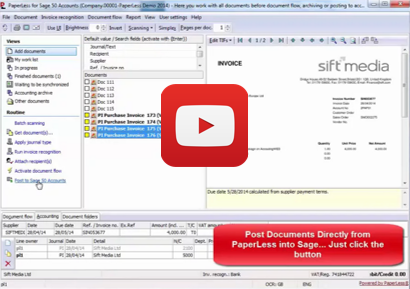 The PaperLess invoice scanning solution digitises all your paper invoices into one single workspace, runs invoice recognition and sends them for
document approval
, then posts them to your accounting application directly. PaperLess helps your organisation to complete the entire workflow within one workspace so your organisation can save time, increase profit and reduce risk.
Using Remote Access, the PaperLess invoice scanning solution enables multiple branches to work more efficiently on the same server. This means invoice recognition can also be run on scanned invoices in PaperLess anytime and anywhere via the Internet. The secure Remote Access looks and feels the same as PaperLess workstation version. There are no requirements for terminal server solution. All it needs is an internet connection. Bandwidth requirement is low as you only view documents when needed.
Is your business still looking for an efficient invoice scanning solution? Then PaperLess is a valuable complementary solution for your organisation. Check out the PaperLess 9-feature cycle and learn more about how PaperLess can improve your organisation efficiency.
What our clients say about PaperLess
Amy Jones, Eventura's Financial Controller
Chris Houghton, Eventura's Owner
Contact Us
Phone Number: +44 (0) 207 135 2007