Sage Additions catalogue gives you access to a diverse range of solutions which have been designed by members of the Sage Developers' Programme. Check out Sage Additions catalogue and see how PaperLess powerful document management features integrate seamlessly with Sage, allowing you to have all your documents directly linked to your transactions in Sage so that you can easily manage and find all your documents.
---
Want to know more about how PaperLess Automatic Invoice Recognition for Sage works... Take a look at this 30 seconds video
---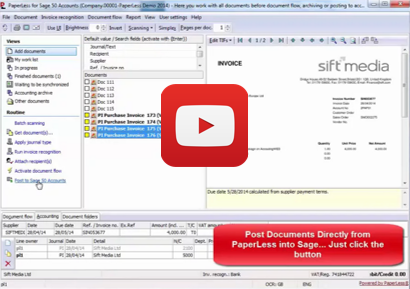 PaperLess invoice scanning software integrates seamlessly with Sage 50 and Sage 200, so businesses can post accounting transactions directly from PaperLess into Sage using the PaperLess invoice recognition for Sage. They can also view the transactions with the relevant documents in Paperless at a later stage.
What our clients say about PaperLess
Amy Jones, Eventura's Financial Controller
Chris Houghton, Eventura's Owner
Ruud Kampshoff, Mark Heem's Head of Financial Accounting & ICT
Contact Us
Phone Number: +44 (0) 207 135 2007