PaperLess is a centralised
document management system
that manages all your accounting and business documents in one workspace. PaperLess
document management system
helps businesses save time, increase profit and reduce risk.
PaperLess

document management system

captures your document data in the beginning of a
workflow process
because managing electronic documents instead of paper documents saves time and money for your organisations. Businesses can
add documents
and
scanned images into PaperLess. You can drag and drop multiple file types from emails or computer to
PaperLess. The PaperLess edit TIF functions enable businesses to merge, split and re-organise files electronically so working through documents is quick and easy.
Alternatively, you can print Word or PDF documents into PaperLess from your computer by using the PaperLess Printer.
PaperLess
Automatic Invoice Recognition
uses two layers of sophisticated OCR technology to extract the relevant data from your invoices. PaperLess can run invoice recognition on multiple invoices at the same time so it saves time and reduces manual data entry. PaperLess

document management system

is designed for easy usability, meaning your accounting department can utilise less skilled members of the team and control what they can do by defining their roles within the user access rights. Higher skilled staff can then spend their valuable time checking the preparation of the accounting vouchers before posting into your accounting application.
PaperLess integrates seamlessly with Sage 50 Accounts and Sage 200 Suite so businesses can post accounting transactions directly from PaperLess into Sage. They can then view documents with the relevant documents attached both in the PaperLess Accounting Archive and Sage at a later stage.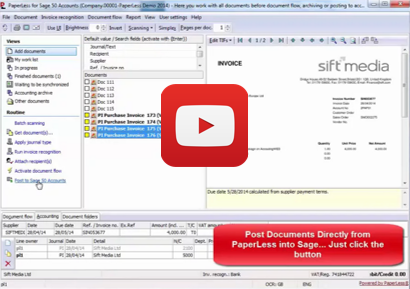 PaperLess

document management system

also helps businesses process and archive documents efficiently and securely. PaperLess makes sure you keep track of your documents. All business documents such as expenses, quotations and purchase orders can be managed by the PaperLess
Other Document Archive
. Colleagues can approve documents online using the
Document Approval
function within the PaperLess workspace. Once the approval process is complete, responsible colleagues can make a final check on the transactions, and amend any accounting lines in the transaction voucher prior to posting into your accounting application.
The PaperLess
Remote Access
feature enables businesses to work on their documents wherever and whenever they are. All PaperLess functionality is available and access is encrypted and secure via the Internet. PaperLess Remote Access is a convenient tool that enables businesses to have access to their documents in a more flexible environment.
PaperLess

document management system

is efficient and secure. PaperLess keeps general business documents in the
Other Documents Archive
separate from the Accounting Archive. There are 10 different
user rights
and a complete set of user rules for flexible control over
workflow management
, meaning that businesses can design effective processes and maintain the highest levels of security at the same time.
What our clients say about PaperLess
Amy Jones, Eventura's Financial Controller
Chris Houghton, Eventura's Owner
Contact Us
Phone Number: +44 (0) 207 135 2007